Canada TRIP on Rocky
 Mountaineer
 – May 2014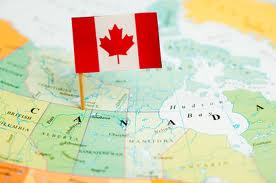 Our amazing trip to Canada 3 – 9 May 2014
Canada here we come – After a great night Sleep at the Hotel Arora in Crawley and Valet Parking booked through Holiday Extras we parked ourselves comfortably in Number One lounge at Gatwick South Terminal and enjoyed a couple of cool beers and a hearty breakfast snack while waiting for our flight call and our Canada Trip on Rocky Mountaineer.
Day one (3 May) Off to Vancouver, Canada
A little anxious to see for ourselves the 'improved' Air Transat service to Vancouver – and can happily report all we heard is true! Comfortable seats and good leg room. Very good service and meals throughout. Could have even brought skis or board and boots up to 23 kgs FREE of charge – massive bonus for us skiers and boarders. Very good range of films and in flight entertainment throughout the flight. Well done Transat!!
Settled in with our gin and tonic to watch LOST VEGAS and the amazing Shane McConkey EXTREME base jumping and skiing documentary with very sad ending. A little snooze and – wow – are we here already? Arrival Canada – Vancouver. Bit of a drag getting through customs but at least there was free wifi! Our coach was waiting to whisk us off on a whistle stop tour of Vancouver, Granville Island for some amazing food and an Aquabus trip on the water. Went on Vancouver's newest attraction – Fly Over Canada –  a great experience and fantastic value. 

Checked into the Hotel Rosedale on Robson – fantastic location and service – rooms were very large with a sitting area and fridge, tea and coffee. Quick turnaround and off to a reception at the Sheraton rooftop lounge with amazing views over Vancouver and its wonderful waterways. Back to the bar for a few drinks to ease the jet lag. Josh our barman – TERRIFIC! A great start to our trip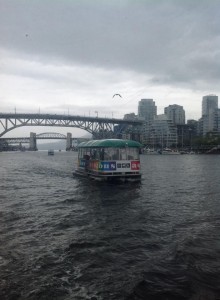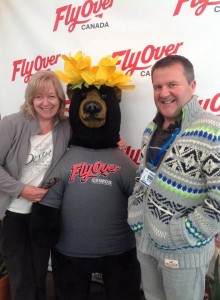 Day 2 – (4 May) Morning conference and afternoon sights
An early start – just in time to see the Vancouver Marathon coming into view under our hotel window! Rather wet morning but it didn't dampen enthusiasm at all for the race! We had a morning conference with breakfast hosted by our fab boss – Sheena Derby – and presentations from some of the suppliers who sponsored part of the trip. Great feedback and motivational speaking from Ben Reid (CEO) and Alistair Rowland (Group General Manager – Travel at Mid Counties COOP)
Midday and we're off to Grouse Mountain to go on the Cable Car. Just outside Vancouver so a short bus ride. Fair bit of snow and evidence of some mad skiers but the bears we went to see didn't come out to play unfortunately. Weather not so good and it was pretty cold so a quick lunch and off to our next attraction Capilano Suspension Bridge Park. Some people nervous of heights but it was VERY impressive and well worth a visit if you are in Vancouver. Hope you like the YELLOW ponchos we were issued with!!
That evening it was off to the amazing Keg Steakhouse for dinner, drinks and very dashing barmen – A great night out!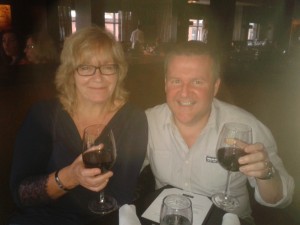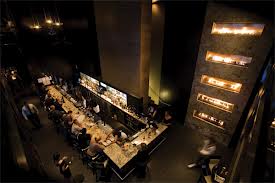 Day 3 – (5 May) All Aboard the Rocky Mountaineer
Vancouver to Kamloops
A very early start and let the journey begin – no need for words – just look at the images – AMAZING!
Gold Leaf carriage on Rocky Mountaineer with overhead windows – great views. Dining car downstairs for added comfort!
View from the Rocky Mountaineer – round the bend we go!
Lunch with friends and wonderful Lake Views
As evening comes – arrival into Kamloops with a guard of honor and much fanfare!

Day 4 – (6 May) All Aboard the Rocky Mountaineer again
Kamloops to Banff and the Rockies
Up for an early breakfast on Board Rocky Mountaineer – upwards toward the ROCKIES and BANFF! Changing terrain – desert to start with and becoming more Alpine as we ascend
Met some traffic – some cargo trains up to 2 miles long! Lost a few hours due to heavy 'traffic!
Saw wildlife but hard to photograph!
Getting late and losing light as we get closer to Banff – so beautiful!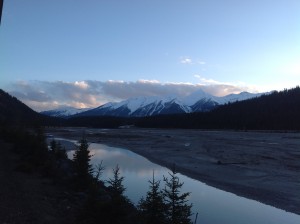 Late into Banff for a COWBOY party at the legendary Wild Bill's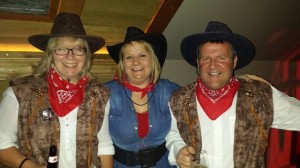 Evening 4/Day 5 (7 May) – Banff
Stayed at the world famous Fairmont Banff Springs
A 'morning after' stroll down Banff Avenue in the warm sunshine! A Gondola ride to the top of Banff!
Stunning views (but no skiing yet!)
Happy days indeed!  Next stop Lake Louise
Evening 5 arrive Lake Louise
Arrival to check in at the ICONIC Fairmont Chateau Lake Louise
Time for a cocktail and take in the views
then check in to our beautiful room with a view
Gala Dinner
Can't wait to get to bed – to get up and do some skiing at Lake Louise!!
Day 6 (8 May) Skiing Lake Louise and homeward bound
Some of the Mid Counties COOP Personal Travel Agents getting ready for action
EMPTY pistes – really!!
Doing what we love best – skiing and boarding at Lake Louise! In MAY 2014
And its homeward bound – past the Olympic Park – great Air Transat flight home from Calgary, Canada
Day 7 (9 May) Homeward bound down the M4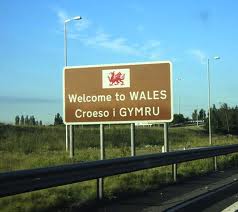 With some amazing memories and filled in the last gaps in our knowledge of Canada..
All photos in this blog are taken by us! Hope you have enjoyed sharing our trip of a lifetime – your turn next!