Taj-I Mah Arc 2000
Brand new Taj-I Mah opens for winter 16/17
On the slopes, next to the Cabriolet lift, and 1 minute from the resort centre
5-star luxury hotel, ideal for couples or families
Michelin-starred restaurant and casual restaurant
Indoor pool and beautiful wellness area
Brand new for winter 16/17, the 5 star is the height of luxury in Les Arcs. Even its name alludes to its impeccable quality – it's named for the largest un-mounted diamond in the Iranian Crown Jewels collection, and translates to 'Crown of the Moon'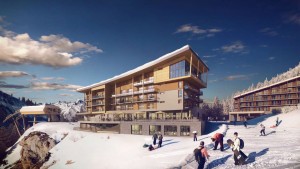 This 5-star hotel is the perfect blend of luxury and comfort, with soft furnishings and striking modern art. You certainly won't forget where you are in the world with huge picture windows everywhere, to let in natural light and allow spectacular mountain views. Each of the 48 rooms is well supplied with modern amenities, like free WiFi and a coffee maker, and there's a good choice of sizes and views.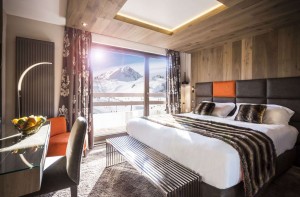 The facilities match the top-notch status too. The beautiful wellness area has a large indoor pool as well as a sauna, steam room, whirlpool, salt wall, experience showers and relaxation area – plus there's a team of beauticians on hand to help you relax and unwind with spa treatments or massages.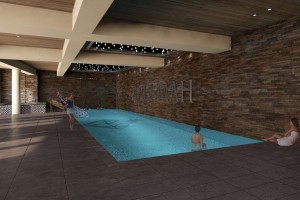 Even families can find peace at the Taj-I Mah – there are loads of facilities for kids, like a playroom, special kids' menus in the restaurants and bar, babysitting service and even a pre-bookable Baby Pack, with all the equipment you need for infants
Christmas offer 7 nights with flights, transfers, half board, room with balcony from £1770 per person
Mealtimes are certainly something to remember here.
There are two restaurants to choose from; the casual L'Atelier d'Eric, which serves tasty home cooking and has a cosy atmosphere, or the gourmet Diamant Noir, run by Michelin-starred chef Eric Samson. The Diamant Noir also has an outdoor terrace, with panoramic views of the resort and slopes. At the end of the day, you can sit back in the lounge bar and enjoy a couple of drinks and some live music.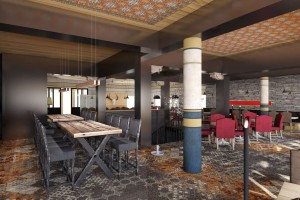 5* service and the following amenities:
Ski : Taj-I Mah Arc 2000
– On the slopes
– Ski room and ski shop including drying system for gloves and shoes. The ski equipment is collected on the evening and prepared for the next day. Your equipment and skis are ready on the slopes in the morning.
Hotel : Taj-I Mah Arc 2000
– 24 H Reception desk and 24 H concierge service
– Cleaning/Laundry service
– 48 rooms among which 5 Suites (Mezzanine or Duplex)
– Rooms with disabled access
– Free Wi-Fi available in the whole facility
– 60 sqm business room fully equipped located 20 meters away in La Source des Arcs residence.
Accommodation 
– On request baby-sitting service
– French and international newspapers
– Pressing
– Lift
– Private parking located in the hotel with valet and luggage service
– Transfer by taxi or helicopter available
Catering : Taj-I Mah Arc 2000
– Room service
– Breakfast served on buffet or served in rooms
– Lounge bar
– Gourmet restaurant Le Diamant Noir
– Casual restaurant La Rôtisserie
400 sqm welness area with :
– Treatment rooms
– Swimming pool
– Sauna
– Steam bath
– Jacuzzi
– Relaxing area with salt wall
– Experience showers
– Fitness room located 20 meters away in La Source des Arcs residence
LUXURY SPA Taj-I Mah Arc 2000
400 sqm are totally dedicated to well-being with a view over the ski slopes. Le Taj-I Mah offers a remarquable welness area including an indoor swimming pool, a sauna, a steam bath, experience showers as well as a relaxing area with salt wall. Its salin stones offers relaxing properties thanks to energising effects. It stimulates positivity to recover from stress and anxiety.
To stay fit, a fitness room is located 20 meters away from the facility, in La Source Des Arcs residence.
To treat yourself, enjoy a wide range of treatments and massages, practised by our beauticians.
Bar and 2 fantastic restaurants
Le Taj-I Mah puts the emphasis on gastronomy. Discover three areas to revitalize yourself:
– The lounge bar that offers musical events. In a casual mood, it welcomes you every day from 9:00 am to 1:00 am.
– Le Diamant Noir, a gourmet restaurant by the 1* Chef Éric Samson. It opens itself on an outside terrace and displays a panoramic view all over the resort; and opens from 7:30 am to 10:30 am, from 12:00 am to 2:30 pm and from 7:30 pm to 9:30 pm.
– La Rôtisserie, a family cooking with grilled food/barbecue on menu. The courses are created by our Chef Éric Samson. Service takes place from 7:30 am to 10:30 am, from 12:00 am to 2:30 pm and from 7:30 pm to 9:30 pm.
Its everything and more – its Taj-I Mah Arc 2000