NEW Club Med Resort – Val Thorens Sensations
In Late December I was lucky to be invited to visit the new Club Med Resort Val Thorens Sensations
#ValThorensSensations opened 14th December 2014 ans I was one of the first Travel Agents to visit . They've used crowdsourcing to help decide on certain aspects of the new build, starting a Facebook community where followers helped influence important decisions, such as whether there should be an indoor climbing wall (they voted yes!).
Who is the new resort aimed at?
The new resort is aimed at groups of friends, singles, couples and families with teenage children. The resort is accessible to young children too (from 2 years up) but there will be no kids clubs or kids entertainment programmes running so it's not the market they are really going for.
What makes this newbie stand out from the other Club Med resorts?
The resort  stands out from the rest due to its contemporary design, which features huge bay windows that will give guests a fantastic view of the surrounding snow-covered mountains. There are 3 sun-facing terraces and the majority of rooms promise to have breathtaking mountain views. Each of the rooms will be one of four different categories – there are 361 Club Rooms, 12 Deluxe Rooms, 5 Junior Suites and 6 Suites.
We know that Club Med is all inclusive, so what dining options will this new resort provide me with?
There will be 2 onsite restaurants which will stay open from 7.30am till midnight, so whether you're an early riser or a night owl then there will be something to suit you. One of the restaurants will provide a buffet set up and the other is a concept restaurant, catering for the more gourmet tastes and offering a menu of local cuisine. With its Michelin Chef its a must and I can vouch for that! For those dying to get out on the slopes, a self-service take-away corner provides guests with a range of hot drinks and snacks, which can be taken out onto the slopes with them.
Apres ski?
If you're after a drink, then Sensations has the choice of 2 bars and a packed schedule of evening entertainment. One bar offers a more cosy and intimate setting, whereas the other provides a more open and lively atmosphere. From 3.30pm each day, the Wine Cellar and Grocery Store plays host to a range of wine tasting sessions, after which guests can purchase goodies to take home with them.
What other activities are there? Try the climbing wall in reception….
Sensations puts a special focus on health, fitness and wellbeing, offering a range of additional packages which include fitness training, nutritional advice and spa treatments. If you want a break from the slopes, or you just fancy working on your fitness a bit more, then a range of fitness classes are included in the price of your stay. Zumba, Body-Balance and Pilates are just some of the classes on offer. Alternatively, if you're a little shy about training in a room full of others, you can choose to join in with a toning workout video, which will be available from the privacy of your room. For all those gym and weight fanatics out there, there is a fully equipped cardio and weight training zone. If you're on the lookout for a bit more adrenaline then there is also a large 10 metre high climbing wall with 4 routes, mountain biking, sledging, snowmobiling and boardercross.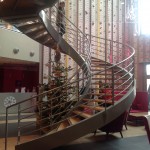 If you fancy a swim, then you can head to a nearby pool, where you'll receive free entry as a Val Thorens Sensations guest.
After a hard day on the slopes, why not relax with a Turkish Bath? All customers will have free access to the onsite Turkish Bath and will have the option to pay extra for spa treatments to wind down after an exhausting day.
Feedback at the end of the first season – majority of Trip Advisor reviews EXCELLENT. Rated 4 of the 31 properties in Val Thorens
My Feedback from customer and my visit – very good standard of Club Med resort, the perfect location in Val Thorens, amazing food, comfortable rooms, good quality international entertainment